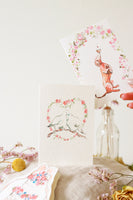 Our story
Handmade cards & papergoods, for lovers of art, literature & romance.
Through enchanting watercolour illustrations; our aim is to ignite feelings of nostalgia & sentiment, reclaiming the charm often lost in modern stationery. 
From ancient mythology, to Thomas Hardy novels, each collection has a story to tell. Precious petite cards that hark back to moments past.  
Purchases will be gift wrapped and delivered to you as a special treat to be enjoyed. All items are printed on fine art papers & handcrafted with love, from our studio in London.
Postage & packaging is FREE for UK orders over £30.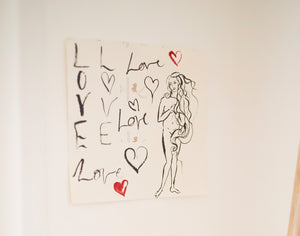 Watercolour
All designs start life as a handpainted watercolour / ink illustration. Images are developed and tweaked, then the lucky chosen few are printed on fine card or paper. Find out more about Sophie & her background in the creative world by clicking the link below.
About quick link
Stay social
We love to paint, create & craft on instagram. Sophie shares many of her illustrations & the journey from page to product through instagram reels. We also firmly believe in community over competition, sharing valuable tips on selling your products & turning your passion into a career.
Join the community
Wholesale
Sophie Amelia's paper goods are available through a select group of stockists & florists. If you are interested in joining them, please head over to our Wholesale page; where you can order directly through Faire, or message us via the contact link.
Wholesale quick link
Beautiful products. Everything brilliantly packaged. Quick delivery for a handmade offering. Also worth mentioning the incredibly beautiful illustrations Sophie creates, that are the cornerstone of her business.

Alistair • Hampton Hill
Beautifully detailed and delicate cards on lovely paper. Great quality and price. Dispatched super quickly! Will order again.

Esther • Hitchin
Sophie Amelia designed our whole wedding collection. Her talent is truly beautiful & she was there with guidance every step of the way. I had so many compliments.

Jenna • Devon